Spend Management
Step-by-Step Guide on How to Get a Company Credit Card
Businesses should learn how to get a company credit card to help manage business expenses. Spenmo has corporate cards that are easy to manage.
---
The headaches that come with the latter priority should be no stranger to you. That said, you want to spend your time and money on what really matters, not expense management! Business credit and charge cards can help you do just that.
Incumbent banks are banking on SMEs for the next wave of growth for corporate credit cards. Now what are you waiting for? Get onboard to learn how to get a company credit card to maximize your business growth and manage your expenses.


What is a company credit card?
Company credit cards are credit cards issued to employees to charge business-related expenses to the company's account, without having to use their personal cash or credit cards. These cards can come in variations of a physical card or a virtual card.
In Singapore, they're available only to Singapore-registered companies that are fully owned by Singaporean permanent residents or citizens.
What are the pros and cons of a company credit card?
Remember the pain of entering receipts by hand to justify your every purchase and how it was incurred?
Expense reimbursement has been around for the longest time and is still being practiced by many – MNCs and SMEs-alike. However, it's proving to be cumbersome and resulting in inefficiencies, especially time wastage, in the era of remote working and a more democratized workplace today.
Below table you can find an assessment of the risks and benefits of moving to a company credit card system for your company purchases and expenses incurred:
Pros
Cons

Easier to qualify for a credit card than a line of credit or a bank loan.

Streamline and consolidate employee expenses – 1 bill instead of many receipts.

Earn company-specific cash back, bonus points or miles from all purchases made through the business account – translated into cost savings feeding into future purchases.

Access purchase records and download them to accounting programs like Excel and Quick books.

Improve your business cash flow for inventory purchases and unexpected emergencies.

Pre-set spending controls for authorized users.

Some merchants may only allow card use if purchases exceed a certain amount.
Employees cannot reap any personal credit card rewards.
Risk of employee abuse – company credit cards have fewer protections than personal cards.

Higher annual fees, and interest rates than personal cards if bills are not paid on-time.
Need for personal guarantee may tarnish your personal credit history if business is not able to pay off the bills.
Differences and similarities between a company credit card and a corporate card
Consider the corporate credit card as a step-up from the company credit card (also known as a small-business credit card). As your business grows, you'll have more employees and more expenses. That said, there comes a point when there are too many authorized users on your company credit card and it's time to move from one to the other.
The key distinction between a company credit card and a corporate card is who's responsible for the charges on the card — the business owner or the business itself.
For the company card, the credit card issuer will typically check the personal cardholder's credit and that the individual is liable for repaying the debts on the card. For a corporate card, no one's credit is being checked and there is no personal liability for the business owner or employees. However, there is a catch to corporate cards: They are generally available only to larger small-businesses, meaning those with at least several million dollars in annual revenue.
Other similarities and differences between both cards include:
Company Credit Card
Corporate Card
Similarities

Allow users to set limits on individual cards.
Issued through a financial institution.
Do not require employees to spend their own money to make purchases on behalf of the business.
Require employees to submit their receipts to receive reimbursement for a charge.

Differences
Company Credit Card
Corporate Card
Eligibility

Available to businesses and sole proprietors with a good personal guarantee, regardless of age or size.

Typically need >$4 million in annual revenue.
Minimum of $250,000 in annual expenses.
At least 15 authorized cardholders to be approved.

Liability

Business owner has the sole liability by offering a personal guarantee.
Personal credit score is checked and personal account activity will be reported to the major credit bureaus under your name.

Business has the sole liability or that it is shared across all authorized cardholders.
Employees required to pay for transactions made on their corporate cards and submit expense reports.

Cost of Card

An average APR of 15% can apply.
Additional cards are usually free of charge.

No intro APR but card costs can be as high as $100 per card.
Can impose a minimum of 15 cardholders.

Rewards and Benefits

Rewards are a key selling point, including points at participating retailers, frequent flyer miles, cash rewards, and exclusive discounts.
Lower level of customer service.

Less focus on rewards, which are usually kept by the company.
Higher level of customer service.
Who's liable for a corporate card?
How does liability work for a corporate card? How does the "business" take responsibility?
Different corporate cards have different rules that determine who is responsible for the debts. For instance: Given its small, tightly-knitted team structure, SMEs or startups tend to opt for the joint liability arrangement where business owners or directors jointly take responsibility for the balance owing on the card. Henceforth, you want to opt for the liability structure that is best for you and your business.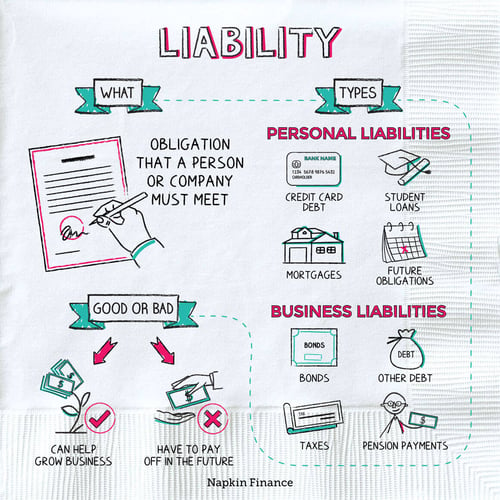 Liability 101 (Source: Napkin Finance)
The 3 types of liability for corporate cards are:
1. Corporate liability – This implies the business is liable for all payments. No one individual is responsible for the balance owing on the card.
2. Individual liability – An individual, whether it's the employee or the business, is liable for all payments. In this instance, the card issuer bills the debt to the individual's address, and he/she is expected to pay the bill. If the payer is the employee, he/she would generally ask the business for reimbursement.
3. Joint liability – This implies the business and the individual are liable for the payments. Unpaid debts can hurt the individual's credit.
How to get a company credit card?
Now that you're convinced about the benefits of a business credit card particularly in bookkeeping and access to capital to keep your business running, get onboard the train! Here's how you can get started:
Step 1: Check if you are eligible for a business credit card application.
Certainly there's no hard and fast rule about using another personal credit card for work-related expenses. Some prefer company credit cards for the type of rewards they prefer to get from the type of expenditures incurred.
Plus, given the many company credit cards available in the market, there's going to be a card for just about any type of business. For sole proprietors, non-profits, independent contractors/freelancers or side-hustlers, you'd usually qualify for some company credit card as well.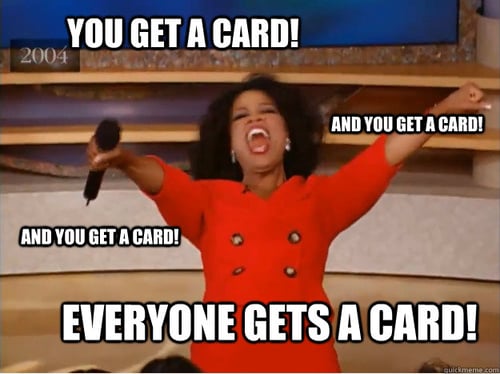 Some of the most common types of company credit cards in Singapore include:
| Type of Card | Rewards |
| --- | --- |
| Rewards business credit cards | Earn cash, miles, or points as you spend. |
| Frequent flyer business credit cards | Earn airline loyalty points for every dollar you spend. You can also use these accumulated points to redeem business flights, upgrades, accommodation, cashback, and other perks for yourself and your employees. |
| Low-interest rate business credit cards | Offer flexible financing for business owners. |
| Corporate business credit cards | These cards are issued to employees to allow them to charge authorised business expenses such as hotel stays and flight tickets. |
Are you eligible for a company credit card? While the criteria vary from bank to bank, some of the criteria for account opening include:
Applicant must be at least 21 years old,
Applicant should be a business owner and/or person with executive authority of a Company/Business with a Valid UEN (also known as an employer identification number in other countries),
Company must be registered in Singapore (with ACRA) Company must be in operation for at least a number of years,
Company must meet the minimum annual sales turnover requirement.
Step 2: Consider the pros and cons.
Business debit vs. credit card: What's right for me? If it's a credit card account, what type should I get?
Now there's even prepaid expense cards, or prepaid business cards, which look (they have the same magnetic strip and a CVC number at the back) and are used like a credit card. But of course, they're really just debit cards with a pre-loaded amount!
When you're considering getting a company credit card, you want to (1) find one that meets your business needs and (2) to get EVERYTHING (like membership rewards!) out of your credit card for your business – which brings us to Step 3.
Step 3: Find out what features and credit card perks you need for your business.
What makes a company card best for your business? Some features that you can look out for as you are finding the best business credit card are:
1. Ability to transact globally: Good for businesses spanning nations! Make it easier for your employees to transact in foreign countries and do away with the need to carry foreign transaction fees.
Spenmo does overseas transfers and automated bill payments at S$1 per transaction with 0% FX markup
2. Rewards, Perks, and Incentives: Transaction-specific rewards vary and appeal to different businesses.
3. Insurance Cover: Insurance protection against corporate-related risks like fraud, travel insurance, and lost-car liability.
4. Availability of Expense Management Tools: Ability to set spending/credit limits, restrict transactions to only specified merchants… Automate your spend management!
5. Emergency Card Replacement: Ability to replace your lost or damaged card immediately.
6. 24-7 Assistance: An ever-ready help desk is necessary in today's competitive world.
7. High Card Security: That goes beyond normal security features such as PIN to make a card more secure!
8. Ever-Ready Access to Details Anytime: Can access periodic online statements, and card usage details.
9. Cost Structure: Defined by the fees and late-payment penalties of a card.
Also consider the biggest draw of credit cards: Rewards programs, cashback rewards, sign-up bonuses, and other perks.
Redeemable points

Points awarded per $ spent.
Can be in the form of gift cards; cash; or directly for specific products or services.

Miles and travel rewards

Redeemed for air tickets.
Can also be in the form of point multipliers paying higher rewards on travel purchases, such as flights, accommodation, and transfers.

Cash Rewards

Can be in the form of credit; deposit; sent as a check; gift cards; or a certain percentage off of orders on specific merchants.

Exclusive discounts with partners

Money off on products and services businesses need to operate and expand their business.
Step 4: Compare interest rates and fees.
When people talk about the perils of credit card use, it usually goes to the exorbitant interest rates and annual fees charged by credit card issuers.
First of all, we want to clarify "interest rates" – important to note here is that interest is charged only if you don't pay your dues on time! One of the greatest blessings of a credit card is that you only have to issue 1 check to settle your bills with your suppliers via your credit card company than to issue a check for every other supplier when you use a debit card (and to risk being chased by your suppliers and more late-payment penalties!).
The annual fee of the company credit card ranges from S$100 to S$300. Some issuers might waive the annual fees, typically for up to 1 to 2 years. Other charges to take note of include currency conversion fees, cash advance fees, and late payment fees.
Final Thoughts
As it's been said: There's always something for anyone. If your business finds it hard to get approved for a company credit card, a corporate card can be a useful step in setting up the expenses management system of the business.
With Spenmo, you get instant access to physical and virtual cards. 3 benefits:
Ease: Set up an account within 30 mins and get cards instantly
Control: Freeze & unfreeze spending with just one click
Security: Assign pre-approved funds to avoid overspending