Accounts Payable
The Ultimate Guide to Accounts Payable Automation Software
Manual coding and approval of invoices can be tough for your accounting department. Call us today and discover how to automate your accounting tasks!
---
Luckily, businesses today can use AP automation software to streamline their invoice and other accounting processes. With these systems, you can complete AP invoice procedures faster. They also lessen the workload of accounting teams.
This article outlines the advantages of using AP automation software for your business. After reading, you'll know the benefits of using the systems and how to look for the package for your accounting team.
Overview of Accounts Payable Automation Software
AP automation is a technology system that streamlines AP invoice processes. Finance teams use the software to automate manual invoicing processes.
AP automation software typically has optical character recognition (OCR) technologies. These use artificial intelligence (AI) and machine learning (ML) to automate AP invoice and payment processes.
In other words, AP automation captures the data from invoices and receipts and encodes them in the software. Other programs even provide payments automation and reconciliation as a bonus feature for an end-to-end payables experience.
Meanwhile, intermediate packages can streamline other accounts payable processes, including matching and three-way matching against goods or services provided. The software also has features that detect duplicate invoices, mismatched notifications and fraud.
Advanced AP automation packages can address the silos between the AP team and non-accounting teams in an organisation. These systems can turn invoices into a collaboration tool to give users more control over the procure-to-pay process.
The best AP automation systems provide end-to-end automation. These accounting systems also allow users to pay inside or outside the system. Generally, these packages have a variety of payment methods that don't push fees on vendors.
Manufacturers design these systems to make payment reconciliation, invoice automation, and invoice management easy and convenient.
With AP automation, organisations and their accounting teams can streamline repetitive and time-consuming tasks.
The Components of Accounts Payable Automation Software
Several essential components make a comprehensive AP automation system. These components are what you should look for when looking for a software package for your organisation.
Read on to know the core components of a sound AP automation system.
Optical Character Recognition (OCR)
Optical character recognition (OCR) is a must-have feature of AP automation. It automatically recognises and translates characters on invoices without needing manual input.
OCR is one of the most widespread features of an AP automation solution in today's marketplace. Market growth and trends data show that the OCR market will reach $13.3 billion by 2025.
Without this feature, your organisation may not be able to start the process of shifting from white paper to paperless.
That said, OCR is just one component of automation. You will still need other features that can process digitised documents and use them to promote more innovative and convenient invoice processing.
Automated AP Workflows
Automated AP workflows allow users to encode, approve, and route faster. It can improve efficiency, which is just one of the benefits of AP automation.
With automated AP and approval workflows, your accounting processes have a fluid invoice flow that shifts from one step to the next without the need for human touchpoints.
Looking at AP invoice approval workflows, which involve capturing and routing invoices, you will see a high automation potential.
An automated accounting process creates a systematic workflow that unites everyone behind a single framework, and it can make auditing simple and help you meet early payment discounts.
That said, human intervention is still needed, especially during the approvals process.
Automated Purchase Order Matching
Purchase order (PO) matching promises to protect your organisation against fraudulent and inaccurate invoices that can cause problems for you and your vendors.
Unfortunately, the PO matching process has a lot of manual tasks, which causes roadblocks in your AP workflow.
You must manually check each invoice and match them according to line data or header level PO data.
Without automated PO matching, you may not achieve full-scale AP automation.
Integration
You want your AP automation software package to integrate into your Enterprise Resource Planning (ERP) system. The ERP system refers to the integrated management of your primary business processes.
You want to form hassle-free integrations. Building integration frameworks can take a lot of time and money. It can also drain your resources.
This is why you want your AP automation software to build on your existing ERP systems. The software must be capable of using your ERP data and its core infrastructure and functionality.
That said, you need an AP automation solution that seamlessly integrates with your existing ERP solution. They must share master data with your ERP system to facilitate seamless information sharing in every step of the AP automation process.
Below are other components of a good AP automation solution. Although these features aren't required to achieve high-level automation, these components can still help you save time and effort:
Ease-of-use
Fast implementation
Mobile-native
Fair pricing
Information security
Regular updates
Benefits of Accounts Payable Automation Software
If your organisation still uses paper invoices and still processes invoices through manual data coding, you're not using the best practices of today's AP climate.
Your accounting team can be more efficient with accounts payable automation. It can also cut down the costs and time used in AP processes.
There are several advantages to automating your accounts payable department. Below are the most critical areas of improvement you can get from your AP automation software.
These benefits lighten the workload of your accounting teams so they can be more efficient and more productive. Because of this, accounting teams spend more time on other important tasks instead of manual data entry and validation.
Cost-effective
A streamlined AP processing can reduce your invoice process times. If your software has OCR and other automated AP procedures, this can help your AP department work with higher velocity.
Fewer Errors
AP automated software packages can help AP teams capture data faster and more accurately. It also eliminates the need for manual processes, like manual coding, which can help prevent human entry errors.
This also allows users to capture invoice data at the touch of a button and reduces the chance of payment errors.
Early Payment Discounts
Many vendors provide early payment discounts. A streamlined payments process gives you more room to avail of early payment discounts,
The faster you can process invoices, the more you benefit.
You can secure early payment discounts through AP automation. Automation allows for more streamlined processes and improved cash management.
Key Features to Look for in Accounts Payable Automation Software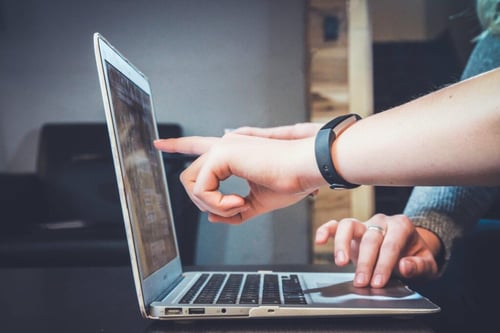 Image source: unsplash.com

There are several features in AP automation software that can help your accounting department to do more with less effort.
Below are certain baseline features that you should expect your AP automation software to have:
Automated invoice separation
Approval processes
Document imaging, data capture, and extraction
Pre-packaged workflows
Optical character recognition (OCR)
PO and non-PO invoice matching
Seamless expense claims
Advanced financial system integrations
Custom user permissions
Batch invoice processing
Searchable document storage
Data export
How to Prepare for Accounts Payable Automation
Identify your AP pain points.
Determine your AP pain points, so you'll know what your AP automation software solution needs to address.
Identify your key metrics.
Knowing your key metrics lets you understand what you want to get out of your AP automation software solution.
Get your AP team on board.
Ask for your team's input and let them experience the new system before implementing it.
Choose an AP automation software.
When choosing an AP automation solution, you must ensure it has all the features you need to reach your AP automation goals.
Complete a demo of the software.
Complete a demo of the software before buying to ensure the solution can help your organisation.
Plan to introduce your automated AP software solution.
When you're introducing your software to your business, make sure to make the process as seamless as possible.
Pro Tip
To be as efficient as possible, you must combine AP automation solutions with OCR technology. It automatically analyses scanned documents and extracts numerical and text data from them.
How to Choose an Accounts Payable Automation Software
If you're thinking of getting an AP automation solution, you'll need some pointers so you'll get the right software for your organisation. Below are tips that can help you choose the right AP software.
Know Your Existing AP Processes
Potential partners will inquire about your current AP workflow. Before they can recommend an AP automated solution, a good service partner may ask the questions below:
What is your process for receiving invoices?
How do you approve invoices?
How do you code invoices?
What is your invoice volume?
How many employees are involved in your AP process?
How many people have access to your archived invoices?
Do you have documents you want to migrate to a new repository?
What platforms do you need to integrate with?
What is the format of your invoice?
How do you archive invoices?
How long do you retain invoices?
What percentage of PO vs non-PO invoices do you process?
Do you want to centralise your AP process?
What level of security do you need?
How detailed do you want your audit trail to be?
What factors can limit an on-prem solution?
Determine Where Your Current Metrics Stand
Before looking for an AP automation solution, you should first determine where your current performance metrics stand. Doing this can help you identify the problems in your AP process that you need to address.
Doing so can also help you measure performance improvements over time once you have an AP automated solution in place.
You can do this by learning which key performance indicators (KPIs) you should be tracking. Below is a list of the most important KPIs your organisation should keep an eye on:
The average cost to process an invoice
The average time it takes your accounting team to process an invoice
The number of invoices for every full-time employee (FTE)
The value of early payment discounts
The average number of incorrect payments
Below are other metrics that are worth monitoring to help you determine your accounting needs better:
The number of human touches per invoice
The total number of payments with errors, including duplicate payments, overpayments, and invalid payments
The cost to process a PO and non-PO invoice
The number of early payment discounts captured
The number of early payment discounts your organisation missed
The number and amount of late penalties
The processing cost per invoice
It's important to know that you can still track these metrics even if you don't have an automated process yet. You can use Excel and collect data within a given timeframe to create a baseline.
Identify the Challenges You Need to Address
When choosing an AP automation solution, you first need to know what you want to resolve. Ask yourself what challenges the automated solution will solve for you.
While many accounting software packages solve various issues, one may be a better fit for your organisation, depending on the specific problem you are addressing.
Research Costs and Benefits
Determine the pros and cons of getting a Perpetual Software license or a Software as a Service (SaaS) license.
Cloud-based solutions (SaaS) are popular since they require less attention from IT specialists. These solutions need less work to upgrade and don't require server space.
These are things you need to consider when you're choosing an AP automation solution.
You should also include opportunities for cost savings. While these opportunities may seem trivial, these savings can add up over time.
Set Implementation Goals
When looking for an AP automation solution, ask yourself this question: What does success look like for your AP project?
Make sure you have a clear understanding of the goals for your implementation. Doing so will help you get the most from your conversation with your potential solution partners.
Make a list of the main areas where you want to see some improvements.
Looking for the Right Accounts Payable Automation Software? Check Out Spenmo Today.
If you're looking for the best-of-the-breed AP automation solution to address your electronic invoicing (e-invoicing) and payment challenges, you can check out Spenmo today.
With Spenmo, you can organise your payments and supplier invoices better. You can even automate local and overseas invoice payments.
Spenmo can provide automated invoicing solutions to different companies, regardless of their spending needs and patterns. Visit our website now at spenmo.com and experience seamless payments processes through automation.
Frequently Asked Questions
How does AP Automation fix the invoice approval process?
AP automation streamlines accounting processes, including invoice approval, which can help improve the efficiency of AP workflow.
Why is Accounts Payable Automation Software important for businesses?
The AP automation software can help accounting departments save time by removing repetitive and other time-consuming tasks. It can also help reduce human errors and help organisations secure early payment discounts.
Will AP Automation fix invoice-related communication problems?
Advanced AP automation packages can help address communication problems between AP teams and non-accounting teams. These systems can turn invoices into a collaboration tool to provide more control over the process.